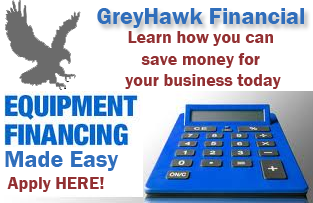 Welcome To GH Financial
We are a full service capital equipment leasing and commercial finance company. 
When the need arises for an equipment acquisition, commercial real estate financing, or working capital loan, call GreyHawk Financial.  
Call us today: 1.951.694.3908
We put our customers first. We listen to you and help you find what you need.
In this current economic environment, a relationship with the right financial partner can make all the difference in the world. 
We offer a wide array of programs for small to large fortune 500 companies.

Quick & Easy Application Process

Commercial financing programs are available from $5,000 to $10,000,000! 

We provide the most comprehensive commercial equipment leasing programs available       in the market today
Contact us to learn more: info@equipmentfinancing.org or

 today!